Downhole Tools Market Analysis and Segment Forecast To 2026
【作者】: Grand View Research
【完成日期】: 2019-07-23
【关键词】: drilling tools, downhole tools
【学科分类】: 石油钻采装备::井上和井下设备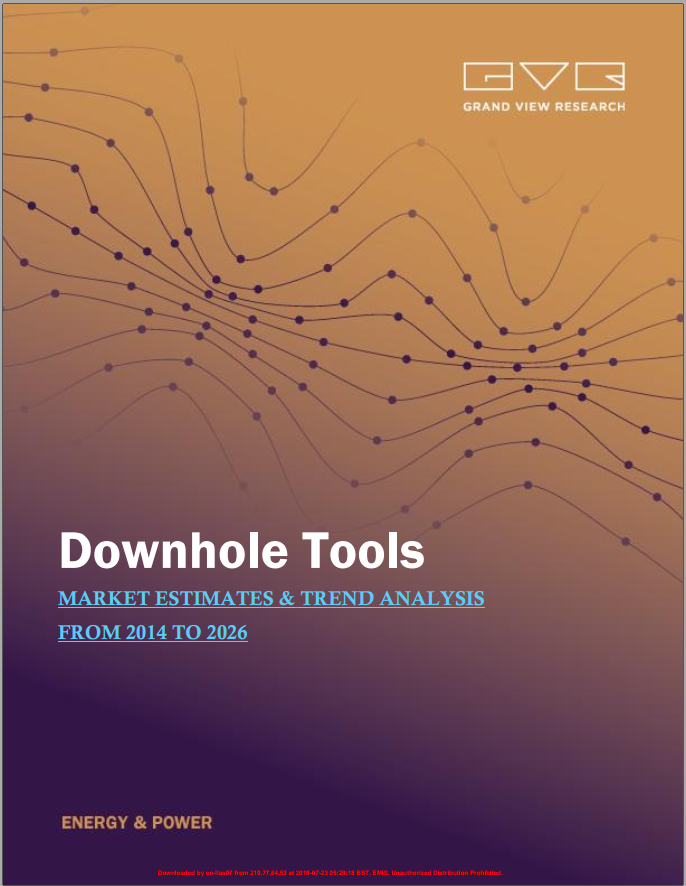 报告目录
报告概述
The global downhole tools market is estimated to reach USD 5,162.47 Million by 2026, at a CAGR of 4.2%, signifying a high demand for such tools for various rising drilling activities. Furthermore, rising E&P in the deep sea and ultradeep sea coupled with enhanced completion efficiency resulting in maximizing production capability by market participants is expected to foster downhole tools demand on a large scale. Ongoing demand for technologically advanced tools that functions optimally in High Pressure High Temperature (HPHT) conditions to enhance the rate of penetration (ROP) has also been a driver of the market.
Fluctuations in the oil & gas industry owing to uncertainty in the demand & supply scenario is a major restraint for the market growth. This has been further elevated with rising environmental concerns due to stringent government regulations and standardization in most of the countries, particularly in the U.S. and European Union. Rising applications of renewable energy sources on a large scale are also projected to alter the downhole tools demand over the forecast period.
Downhole tools market has been segmented on the basis of type, application, and region. Based on type, the market has been bifurcated as drilling tools, flow & pressure tools, control tools, handling tools and other. Downhole tools applications are in activities such as well completion, logging, well intervention, fracturing, and well measurements. Geographically, the market has been segmented under North America, Europe, Asia Pacific, the Middle East, and Latin America.
Among the types segment, drilling tools have been estimated to have the largest market share and been predicted to reach USD 1,390.94 million. However, flow & pressures control tools have been anticipated to observe highest growth rate with CAGR of 4.6%.
Among regional expansions, the Middle East region has been expected to dominate the market with share of 33.57% in 2017 and been expected to reach the share to 34.11% by 2026. The primary factor for this regional dominance is continuous increasing production of oil & gas through their active rigs. The market dominance in the region has also been attributed to the presence of several oilfield service companies and use of advanced technologies on a large scale.
European region is anticipated to witness substantial growth rates in the following years owing to enhanced deep sea drilling in the North Sea. Norway, Netherlands, and Russia currently offer a good opportunity for market participants in the near future. In Africa, oil & gas production is on a rise with several new entrants to the market. These include Angola and Mozambique who have increased their oil & gas production rates in the recent years.
Noticeable players in the market include Baker Hughes, Schlumberger, Halliburton, National Oil well Varco, Weatherford, Ulterra, and Frank's International. These key players are continuously involved in various strategies to increase their presence and customer base such as M&A and setting up sales and manufacturing facilities in various countries. With the ongoing advent of the rise in oil production and demand, down-hole tools market participants have expected to rise considerably over the next eight years.