Deepwater and Ultra-deepwater Exploration Production EP Market - Growth, Trends, and Forecast 2018 - 2023
【作者】: Mordor Intelligence
【完成日期】: 2019-07-23
【关键词】: deepwater drilling techniques, drilling units
【学科分类】: 海洋工程装备::海洋钻井装备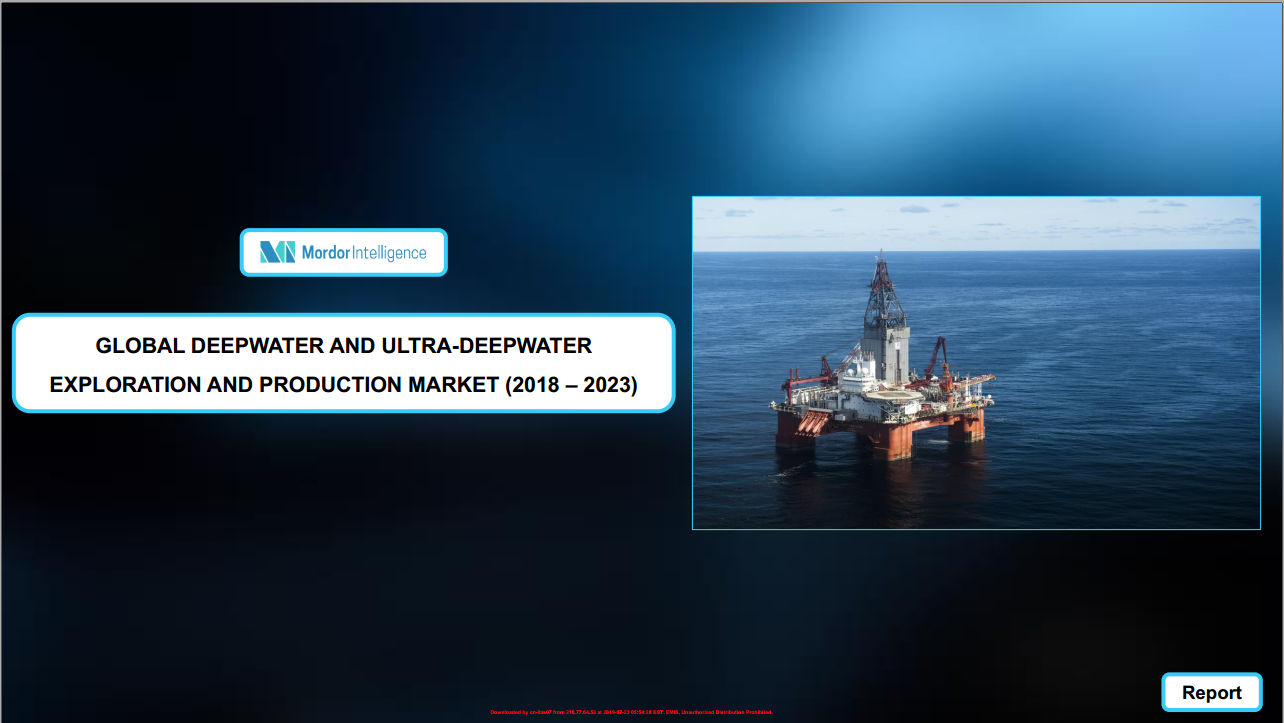 报告目录
报告概述
The recent downturn in the oil and gas industry has caused serious damage to the deepwater and ultra-deepwater activities ,across the world. But, the future of the market seems bright, mainly due to the surging oil and gas prices and lower breakeven price of the deepwater production. Development is expected to be mainly driven by rising deepwater and ultra-deepwater activities in Brazil and the United States, which has almost 90% share in global ultra-deepwater production.
However, a part of the market share held by the United State, Brazil, and Norway is expected to shift to the emerging markets in areas, such as Angola, Nigeria, Gabon, China, Guyana, and several others, where huge deepwater reserves are explored. The coming five years are expected to be characterized by a growth in deep and ultra-deepwater development outside the traditional 'deepwater triangle' of West Africa, Latin America, and the Gulf of Mexico. While in the ultra-deepwater sector, India creates ample opportunity with projects, such as the Krishna-Godavari ultra-deepwater project and the development of Reliance's Dhirubhai fields; offshore Malaysia, the giant Rotan development is anticipated to require substantial investment, with the PFLNG-2 facility expected to be installed in 2018. The underexplored field of red sea and the rapidly developing deepwater blocks in the Mediterranean Sea are seen as the global hotspots for new exploratory activities.
The shift from shallow to deep is expected to occur, on account of technological advancement in the deepwater drilling techniques and also due to the maturing shallow and onshore reserves in some regions. There are multiple reasons for optimism about the offshore deepwater space in the future. Offshore rig activity has also started to pick up, as oil prices have risen. Many offshore firms have become much more efficient and productive over the last few years, as a survival mechanism. Day rates on offshore rigs have mostly stabilized in many regions.
Companies like Ensco PLC, Seadrill, Transocean, Diamond Offshore, and Noble Corp. are now cautiously regaining pace in the market. Transocean has one of the largest fleets of floating ultra-deepwater and harsh-environment rigs in the world. The company has streamlined its fleet over the past few years, eliminating all of its shallow-water rigs and most of its older and less capable floaters.
Advancements in the dynamic positioning equipment, drilling technology, floating production, and drilling units have made the previously unapproachable, prospectively viable. Deepwater production has registered significant growth in several cases, having overtaken shallow water production. Hence, the role of technology in this market cannot be ignored, and in fact, in the coming years, it is likely to be more dynamic than ever.